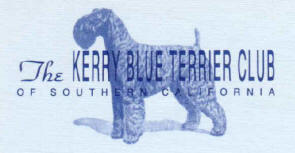 President's Message
My commitment as president is to introduce Kerry Blues to as many dog lovers as we can. Certainly through our biannual Specialties but also through our Spring Pat Fair, as well as other events like the herding trials, "meet our dogs" events, and making a day of getting Canine Good Citizen titles for all our Kerry Blues.
Nationally, Kerry Blues are increasingly proving to be invaluable as service dogs and therapy dogs. To share your Kerry Blue with those in need is both a loving thing and it shows the world the very essence of the breed we love. I'd love to see the 2013-2014 bring more therapy dog titles to our Club.
I look forward to seeing you all in the year ahead!
Dr. Douglas Keene
KBTCSC President 2013-2014
---